[fvplayer src="http://ithacavoice.wpengine.com/wp-content/uploads/2014/10/Micah_mobile.mp4″ width="854″ height="480″ autoplay="true" controlbar="yes" loop="true" mobile="http://ithacavoice.wpengine.com/wp-content/uploads/2014/10/Micah_mobile.mp4″ splash="http://ithacavoice.wpengine.com/wp-content/uploads/2014/10/micahthumb.jpg"]
1 — Important INHS meeting
Let me start by acting all civic-minded and promote the public meeting INHS is hosting for the Neighborhood Pride site in the Northside neighborhood of the city.November 12th, 4:30-7:30 PM, inside the former grocery at 210 Hancock Street. As Jason at Ithaca Builds noted a few months back, this will likely be the largest development on the north side since the 1950s.
Here's why your opinion is important. The site has walking access to many local venues, affordable housing is in very high demand, and the site as it currently stands is underutilized and an easy target for vandalism. INHS is looking to avoid a repeat of the battle that happened with Stone Quarry, and is actively engaging with the community to see what will and won't mesh with neighbors. In theory (under zoning and given some assumptions), the site could host nearly 200 units of housing. The city has already expressed a strong preference for an owner-occupied housing component, and the city comprehensive plan supports some small-scale commercial uses at the site, with higher-density residential.
There have even been reports that the Sciencenter is interested in playing a role. So that's the sort of framework here; how much housing, what proportion of renters vs. owners, and what sort of mixed uses if any.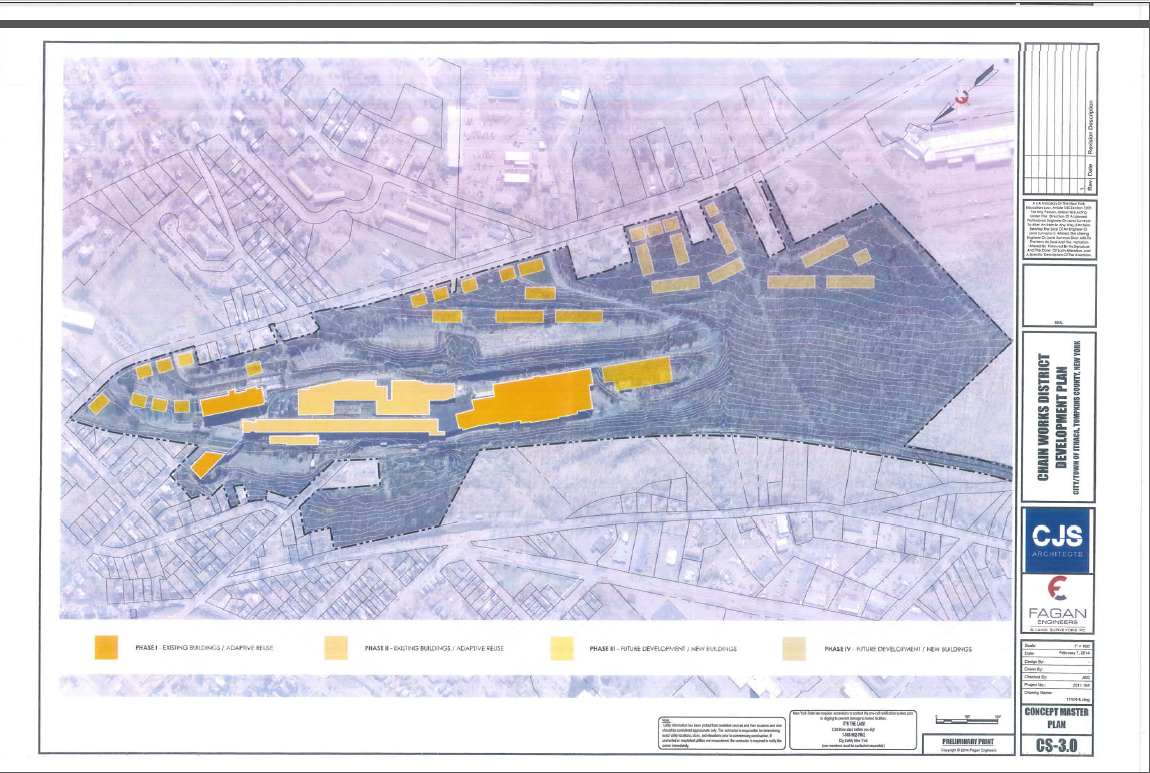 2 — Rochester area sub chain eyes move to Ithaca
Now, I know everyone's been complaining – we need more more suburban GeneriMerican chain restaurant boxes with ample parking. Your prayers have been answered! This time, the newcomer is DiBella's, a chain sub sandwich restaurant based out of Rochester with about 43 locations scattered throughout six states in the Northeast and Midwest. Dibella's "theme" is a vague 1930s/1940s look.
Snark aside, the chain is looking to build a 3,400 sq ft building on an outparcel pad property at 222 Elmira Road – just north of Five Guys, and behind the Ithaca Shopping Plaza. It follows the "real estate guidelines" on Dibella's website near-perfectly. Cover letter here, site plan review application here, more drawings and renders here, full environmental assessment form here. The application states that the construction cost will be about $600,000 and the time frame is from February to August 2015. They'll need a zoning variance for lot coverage, which I don't foresee being an issue. The plan is by NYC-based Marx Realty. It's tax money, it's "5+/-" jobs. Meh.
3 — Revisions to planned Collegetown building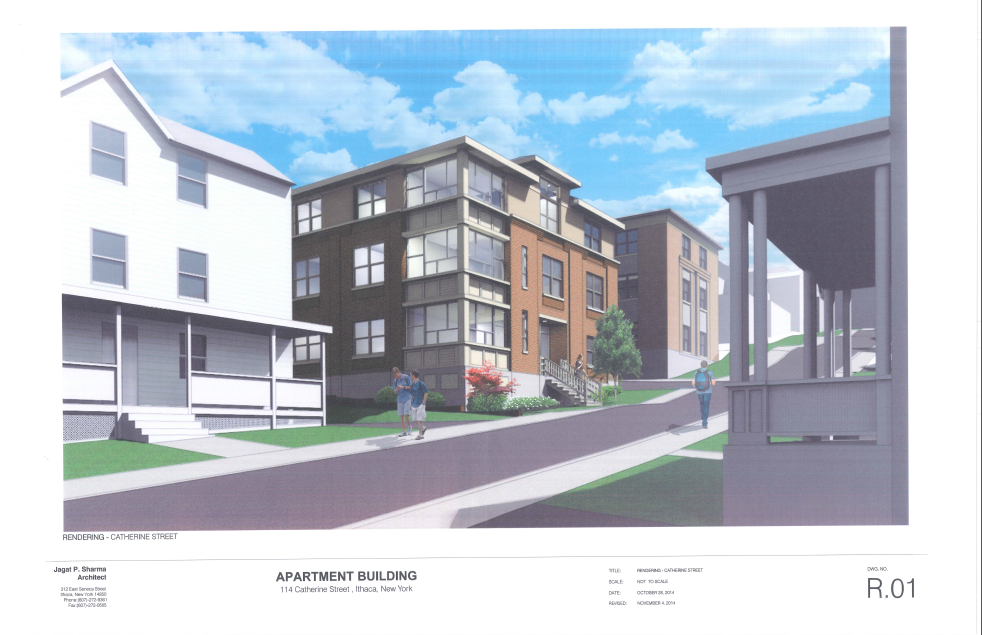 Some minor revisions to 114 Catherine, new renders here. Compared to the previous iteration, it has a little more detailing on the concrete base, and they changed up the panes in those corner windows. here's the traffic plan, which kinda just states that students have access to buses, bike racks, delivery space and a little parking in the rear, and their own two feet. This one's pretty much good to go for approval.
5 — Discussion on Old Library
Friday the 7th, the county has another meeting to discuss the Old Library site, this one to finalize and release the actual RFP. For those interested in tomorrow, it's at 3 PM in the Heyman conference room at 125 East Court Street. I have a major concern here – the final choice on developer was supposed to be in March 2015. Now it's January 2016. The county is putting an additional strain on all the proposals, because labor and material costs are increasing. This has the potential to remove desirable features from projects, or cause developers to simply walk away. The county was very fortunate to have six expressions of interest for the site; two have already walked away. If the county doesn't get its act together or is perceived to be acting in bad faith, the potential is there for very few or no proposals when the due date comes in March 2015. It will be a very uncomfortable day for the legislature if that happens.
6 — Maguire expansion?
This could be interesting – according to the Times, the Maguire family (the ones with all the car dealerships) are proposing a new set of dealerships on the site of the current Rodeway Inn, south of the city on Rte. 13. The inn owner is looking to move to California (claiming the hotel boom is hurting his business) and the Maguires are proposing the following moves:
>Move sales of their Subaru-Hyundai, Fiat-Alfa Romeo, and Nissan dealerships — from Elmira Road out to the new site in the town.
>relocate its Chevrolet Cadillac dealership from Lansing to southwest Ithaca
>renovate its Dodge Chrysler Jeep Ram dealership in front of Wegmans.
It sounds like the only place losing business is Lansing. Any movement on this will be slow; but when those fancy artisanal renders come up, you'll see copies of them here.
---