This column was written by Brian Crandall, who runs "Ithacating in Cornell Heights."
Why I shop downtown — Carmen
[fvplayer src="https://vimeo.com/114801195″ loop="true" mobile="https://vimeo.com/114801195″]
---
Fresh off of meeting number two Wednesday night, plans for INHS's Neighborhood Pride site are cooking like a Christmas turkey. For those who didn't or couldn't attend, here's a summary of the current proposed development by use:
1. Residential units – both owner-occupied and rental units, affordable and market-rate. Exactly how much of each is still being worked out, but the final total will be between 60 and 75 units. Most of those will be in small multi-unit buildings, although 10 to 12 townhomes or duplexes are planned.
2. Community/commercial space – 4,000 sq ft total in 1 or 2 buildings, targeted for the corner of First and Hancock Streets. For comparison's sake, Greenstar Oasis in DeWitt Mall is 2,500 sq ft, and Greenstar's primary West End location is 5,700 sq ft. Along with retail use, the space could also be outfitted for non-profits, office space or community meeting space; no tenant has been secured yet.
3. Design – For heights, the townhomes will most likely be two floors plus attics, topping out at 30′ at most. Apartment buildings will be 3-4 floors and 34′-40′. Architecture and massing will be similar to neighborhood homes – townhouses will have porches and stoops, and there will be enough spacing between buildings to prevent it from looking like one huge mass.
4. – Greenspace and Parking – Parking will be scattered throughout, using parallel parking where possible to make it more street-like (about 80 spaces will be required by zoning). There will be lawn and play space, trees planted, and tree-shaded pedestrian paths, presumably when the trees grow out.
Now that the uses are largely figured out, it's time to figure out the site layout. This is where the active discussion is at this point.
Unresolved questions
Four of the biggest questions are:
A. How should vehicles circulate through the site (alleys, courtyards)?
B. Where should the larger apartments and smaller townhomes be located on the site?
C. Should parking be under living space (first-floor parking) or out in the open?
D. What is the character of the pedestrian experience? In other words, the impression given when walking by or through the development.
With those questions in mind, here are the three schemes presented:
Scheme 1

Scheme 1, the "Alley Scheme", has apartments on the north end and southwest corner of the site, with townhomes in the middle and southeast corner.
An alley circles through the site, with a through street between the townhomes and apartments.
There is some first-floor parking in the north apartment buildings, and the mixed-use community/retail space is in the southwest corner. This scheme has the most individual buildings (10), and the least amount of parking (82, 60 on site and 22 off site).
Scheme 2

Scheme 2 is the "Street Scheme". Apartment buildings line the north and west sides of the parcel, and townhomes are clustered on the southeast corner. A two-way through street and enclosed parking area are included in this proposal, with one mixed-use building on the corner. First-floor parking is provided in three apartment buildings on the west side. This plan has 100 parking spaces, 60 on site and 40 off-site.
Scheme 3

Scheme 3, the "Courtyard Scheme", places a park in the middle, townhomes on the north and west sides of the block, and apartments with some first-floor parking space on the east side. Mixed use is once again the southwest corner. A two-way alley with parking passes through the site, and a smaller one-way alley passes on the other sides of the central park/courtyard. This plan has 100 parking spaces, 60 on site and 40 off-site.
Lastly, here's a concept sketch, intended only to demonstrate massing and height. Meeting three, scheduled for next month (date/time TBD), will use small groups of community participants to help flesh out the design, and narrow down the site plan schemes from 3 to 2. The final concept will be selected and refined for a presentation to the community on February 5th.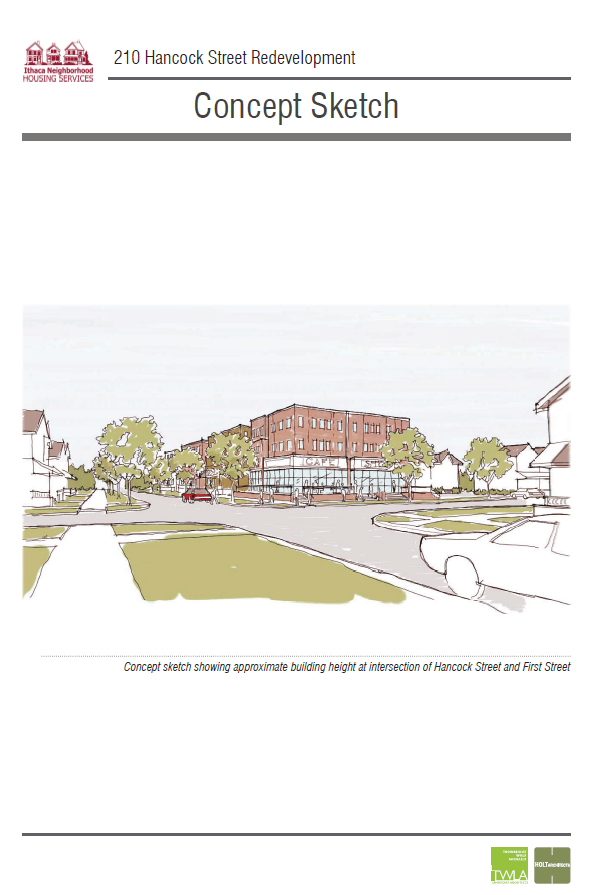 Here's your chance to help shape your community, Ithacans. Go for it.
---