This is an opinion column written by Brian Crandall, who runs "Ithacating in Cornell Heights."
To submit an alternative or dissenting viewpoint, contact me at jstein@ithacavoice.com.
Meet Andre: TCAT's Youngest Spokesperson
[fvplayer src="http://vimeo.com/115827899″ loop="true" mobile="http://vimeo.com/115827899″]
---
It seem just about everyone has a bone to pick with Mayor Svante Myrick regarding some of his comments in the Ithaca Voice. Here's mine:
With the recent zoning changes approved by his administration, Myrick said he has "no doubt" that new student housing in Collegetown will soak up demand.
"Rental prices for the rest of us will go down," he said.
To be fair, the mayor has done more to promote development than his predecessors, which has helped keep taxes in check. But decreasing rents?
Let me be the bearer of bad news: Mayor Myrick, I don't see that happening.
Here's why: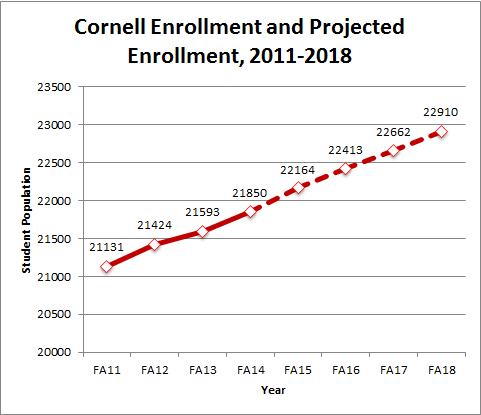 The above is a plot of Cornell's Ithaca campus enrollment from Fall 2011 onward, in total values.
The Fall 2011 to Fall 2014 values were pulled from the university factbook, and a simple linear regression (best fit line) was used to calculate projections for 2015 to 2018. I did this for two reasons – the mayor entered office in January 2012, when the fall 2011 numbers were most relevant. And since zoning takes time to have an impact, I'm looking a few years ahead to take that, and the projects it has sparked, into account.
In the past three years alone, Cornell has added 719 students. It has also added zero new dorm rooms or graduate housing units. Some of you might be reading and saying "that seems too high". Except if you look at the numbers, Cornell has added over 2,000 students since 2005, when enrollment was only 19,447 students. If you break it down, the majority of the growth is with grad/professional students.
Now let's look at the student housing. Since the start of 2012, about 1,960 bedrooms have been built, approved, or proposed in student-centric housing in the city of Ithaca. Net gain means the gain once one accounts for the buildings and apartments torn down to make room for the new units. I don't count Fane's 330 College Avenue project because that has no chance of approval. Collegetown Terrace and its ~1246 beds (~658 net gain) were proposed/approved/began construction before Myrick entered office, causing most of the big difference in the two categories above.
Some complaints might be made that I'm leaving out Ithaca College, but student housing on South Hill is largely located in the town of Ithaca. Only two student-centric apartment buildings have been built on the city's portion of South Hill since Myrick started his mayoral term, with 12 bedrooms total.
So, in sum: with the current numbers, we stand to see about 1,244 rooms gained from 2012-2018. Cornell stands to add about 1,779 students over that same time period. There are more students than rooms. Rent will not go down. At best, it will go up more slowly.
Some development is better than no development, and it's better than pointing at the highway sign to Elmira and telling priced-out lower-income residents to take a hike. Mayor Myrick is trying to help the situation, but at this time, it's not enough.
Guess it's time to start forcing Cornell to build some more dorms.
---