Ithaca, N.Y. — The number of records broken by this year's exceptionally cold winter is nothing short of astounding. As previously covered, February 2015 was the coldest month ever recorded in Ithaca's 122-year record, at 10.6 F, it shattered the previous record of 11.3 F set in February 1979.
[fvplayer src="https://vimeo.com/120846728″ loop="fale" mobile="https://vimeo.com/120846728″]
How you can build a better library:
Learn about TCPL's new campaign
According to the Northeast Regional Climate Center, the winter of 2014/2015 has the dubious distinction of being the winter with the most subzero days on record with 25 days of negative temperatures. That beats the winter of 1960/61 and its 24 subzero days. Last winter (2013/14) is in a tie for third place with 1947/48, with 23 subzero days apiece.
From February 10th to March 4th (March 4th being the reading from March 3rd 8:00 AM – March 4th 7:59 AM), temperatures did not hit go above 32 degrees. That 23-day period is the longest streak of sub-freezing temperatures since January 14th – February 6th 1945, which is the record at 24 days.
The high temperature on February 9th, 38 F, was the highest temperature for the month, and one of the coldest monthly highs ever recorded for February, behind 1900/01 (36 F) and 1977/78 (37 F). For what it's worth, January 1977 holds the all-time record of only 33 F, which it hit twice, on the 11th and 29th. Hence why it's not on the list of consecutive days below freezing.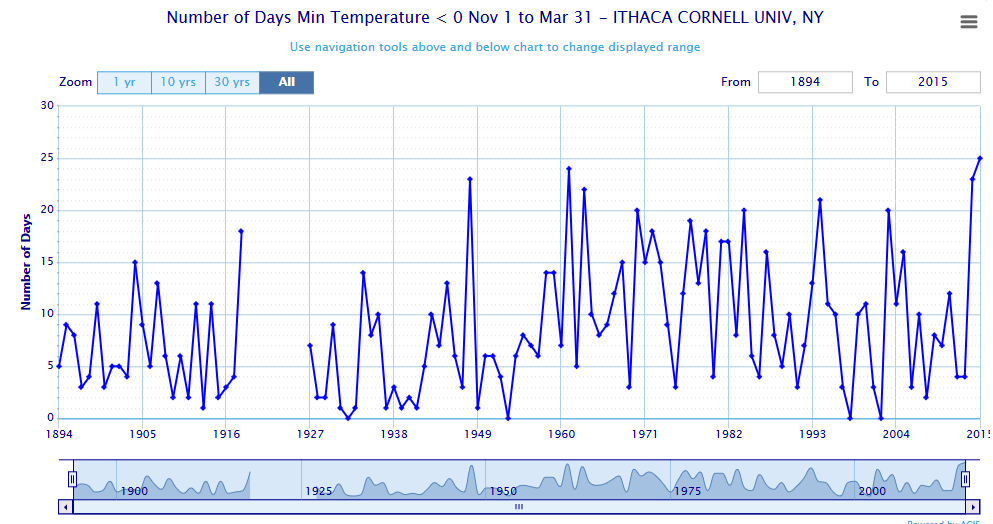 This winter had unprecedented cold, thanks to a persistent trough in the jet stream over the Eastern United States that allowed frigid arctic air to continually surge through the region (the jet stream is also why much of the West Coast from California to Alaska experienced a record-warm winter, where it ridged poleward and allowed tropical air to surge north).
There's no evidence to tie this to climate change, warming, cooling or otherwise – the relationship between the jet stream and climate change isn't well understood, and while some scientific work has suggested that major meanders may become more common, other atmospheric scientists have gone on the record that the implications are still not known (no one is denying climate change, just that its impact on the jet stream is uncertain).
Fortunately, at this time of the year, when so much more solar energy is being pumped into the northern atmosphere, it becomes much harder to have such frigid temperatures. Although temperatures will be well below normal probably for the rest of the month, and may struggle to break freezing some days, nothing will approach subzero.
Hopefully, it will stay that way until next winter.
---